Packaging Machinery Market: Players Resort To Product Innovation To Gain Competitive Advantage 2019–2026
Packaging Machinery Market: Introduction
Transparency Market Research delivers key insights for the packaging machinery market in its published report, which include global industry analysis, size, share, growth, trends, and forecast for 2019–2026. In terms of revenue, the global packaging machinery market is projected to expand at a CAGR of ~6%, in terms of volume, during the forecast period, due to several factors, about which TMR offers detailed insights and forecast in packaging machinery market report.
The global packaging machinery market is fragmented. With over a hundred players present in the market. However, most of the key manufacturers have their base in five major countries including Germany, Italy, China, the U.S., and Japan. Manufacturers present in markets in Germany and Italy market offer very high quality and technologically advanced packaging machinery as compared to those offered by manufacturers in other countries.
However, the packaging machinery offered by manufacturers in the European region is higher in cost as compared to their counterparts based in the Asia Pacific region such as India and China. Around 60%-70% of the end user companies in the Asia Pacific are small-scale enterprises, which cannot afford to import expensive packaging machinery from the developed countries.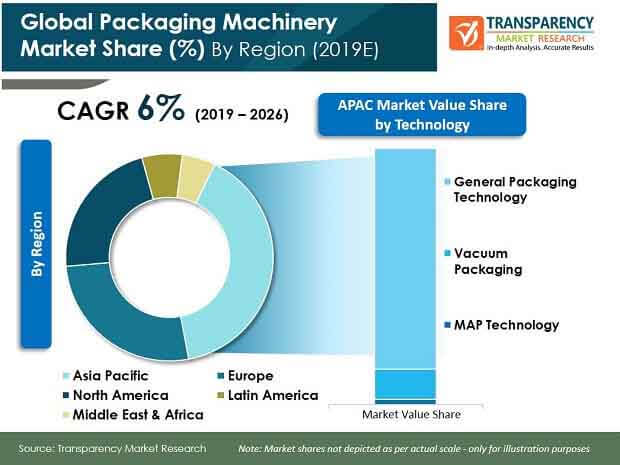 Request For Covid19 Impact Analysis Across Industries And Markets @https://www.transparencymarketresearch.com/sample/sample.php?flag=covid19&rep_id=3076
High Demand for Packaging Machinery from Food & Beverages Sector to Propel Market
Food & beverages industry is the single largest manufacturing sector in terms of value addition and job creation in most of the economies growing at phenomenal rate. Worldwide sales of processed and packaged food have increased substantially over the last decade.
Increasing private consumption is also anticipated to boost the demand for food service disposables in the region, which is expected to create a high-demand for packaging machinery in export-led economies. Consumer expenditure on food & beverages was estimated to be 8.5% of the global GDP in 2018. Moreover, consumer expenditure in the MEA and Asia Pacific is estimated to increase from 53% of the global expenditure to more than 60% in 2030, on the account of rise in disposable incomes of the middle class families in these regions.