Global Collaborative Robots Market Led by Europe due to Growing Development of Robotic Systems
Global Collaborative Robots Market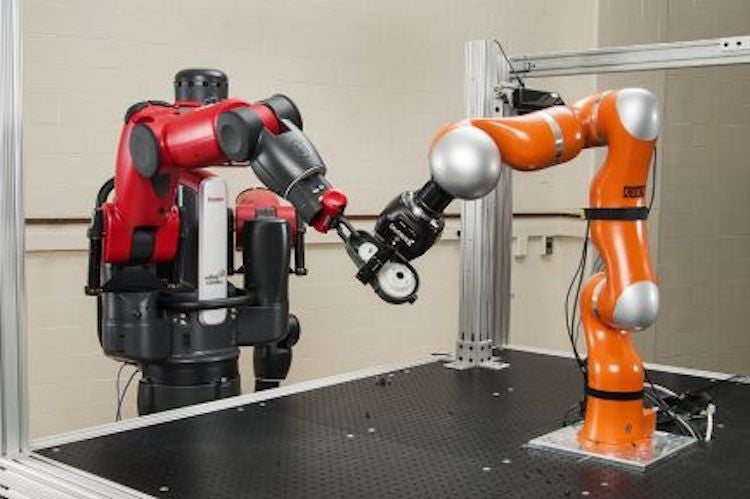 The global collaborative robots market is expected to exhibit a strong 54.22% CAGR over the forecast period from 2018 to 2023, according to the latest research report from Market Research Future (MRFR). The global collaborative robots market is expected to reach a valuation of USD 3538.46 million by 2023 due to the growing demand for industrial robotics and the increasing demand for innovations in the technology behind this phenomenon.

Collaborative robots, also known as cobots, are an upgrade over industrial robotic systems, in the sense that they can interact with their human "coworkers" in a more natural manner and are much more aware of their surroundings than first-generation industrial robotic units. Collaborative robots incorporate advances in machine learning and natural language processing to be able to process verbal cues as well as gestural commands to operate well within the confines of an industrial setup. The increasing adoption of artificial intelligence in industrial robotic units is also a key factor in the growth of the collaborative robots market and is likely to remain key to the market's growth prospects over the coming years.
Improving the safety of human workers working alongside industrial robots has been a key aim behind the development of the collaborative robots market. Due to the largely autonomous function of industrial robots, they can remain "unaware" of any human worker that happens to stray into their operational zone, resulting in mishaps. This can be prevented by adding technologies such as computer vision, which allow the robotic units to monitor their surroundings and halt or slow down operation if a human worker happens to come into the danger zone. Since industrial robotic units can weigh hundreds of pounds and thus deliver significant blows to a human, the development of collaborative robots is likely to be a major driver for the global industrial robotics market over the forecast period.
Competitive Analysis:
Leading players in the global collaborative robots market include KAWADA Robotics Corporation, YASKAWA Electric Corporation, Techman Robot, Universal Robots, MABI AG, F&P Robotics AG, Energid Technologies Corporation, Precise Automation Inc., MRK-Systeme GmbH, Rethink Robotics, Universal Robots A/S, Robert Bosch GmbH, FANUC Corporation, KUKA AG, and ABB.
In July 2019, Hanwha Precision Machinery signed an agreement with Wipro to develop and distribute automated factory solutions, including collaborative robots.
In June 2019, Veo launched a redesigned version of their industrial robotic solutions, incorporating 3D depth sensing and machine vision capabilities to make the robots aware of their surroundings and capable of adjusting their operations to keep the human workers safe.
Regional Outlook
By region, the market is segmented into North America, Europe, Asia Pacific (APAC), and Rest-of-the-World (RoW).
Europe dominated the global collaborative robots market in 2017 thanks to integration of factory automation solutions. This trend is buttressed by manufacturing and automotive sectors in Germany, France, and the U.K. The Industry 4.0 trend supported by governments in the region can propel market growth to new heights over the forecast timespan.
North America can hold onto a significant market share owing to adoption of cobots in Mexico, Canada, and the U.S.
The APAC collaborative robots market is set to experience massive growth due to need for robots in China, India, and Japan. Emphasis on accuracy coupled with new industry standards designed to cater to consumer demand is likely to boost market growth. Reduced wastage of raw materials, improved workflow, and manufacture of high-quality products are other factors which can bode well for the market.
More Information@
Collaborative Robots Market is expected to a value of USD 3538.46 million and Collaborative Robots…
Read on marketresearchfuture.​com
About Market Research Future:
At Market Research Future (MRFR), we enable our customers to unravel the complexity of various industries through our Cooked Research Reports (CRR), Half-Cooked Research Reports (HCRR), Raw Research Reports (3R), Continuous-Feed Research (CFR), and Market Research and Consulting Services.
Contact:
Market Research Future
+1 646 845 9312
Email: sales@marketresearchfuture.com