Sterilization Equipment and Disinfectant Market Size Estimated to Observe Significant Growth by 2027
According to Transparency Market Research's latest report on the global sterilization equipment and disinfectant market for the historical period 2017–2018 and forecast period 2019–2027, high incidence & prevalence of infectious diseases and demand for safety of healthcare providers are projected to escalate the growth of global sterilization equipment and disinfectant market.
According to the report, the global sterilization equipment and disinfectant market was valued at US$ 5.3 Bn in 2018 and is anticipated to expand at a CAGR of 7.6% from 2019 to 2027
Request the Coronavirus Impact Analysis on this Markets – https://www.transparencymarketresearch.com/sample/sample.php?flag=covid19&rep_id=389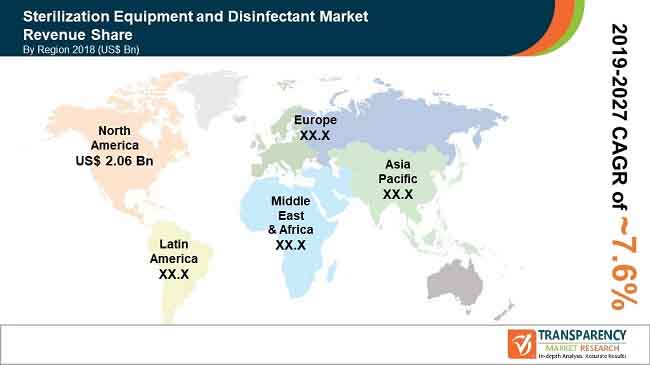 To know the scope of our report Get a Sample on Sterilization Equipment and Disinfectant Market
Rise in Number of Surgeries and Increase in Prevalence of Chronic Diseases: Key Drivers of Global Sterilization Equipment and Disinfectant Market
Changing lifestyle has propelled the incidence rate of various lifestyle diseases such as cancer, tuberculosis, and renal failure. Increase in number of patients suffering from the diseases mentioned above has propelled the uptake of medical instruments (surgical, non-surgical and diagnosis tools) considerably. This has augmented the demand for sterilization equipment by hospitals, diagnostic centers, medical institutes, and research laboratories.
According to World Health Organization (WHO), around 9.4 million people die globally, every year, due to cardiovascular diseases (CVD). Around 23.3 million people are expected to die due to the same by 2030.
As per the World Health Organization, tuberculosis is one of the leading cause of death across the worldwide and estimated 1.5 million people were die from tuberculosis in 2018. Thus, rise in the number of people suffering from tuberculosis fuels the demand for catheters, needles and other devices, which in turn accentuates the demand for sterilization. This, in turn is driving the growth of sterilization equipment and disinfectant market.
Furthermore, rise in prevalence of cancer among population is likely to fuel the growth of sterilization equipment and disinfectant market. For instance, according to World Health Organization states that, in 2018, estimated 9.6 million deaths and 18.1 million new cases of cancer were recorded globally.
Moreover, increase in the geriatric population is one of the key drivers of the market as geriatric population is more prone for various chronic & contagious diseases. Thus, surge in old age population across the globe is anticipated to drive the growth of global sterilization equipment and disinfectant market. For instance, according to the United Nations, by 2050, older persons are expected to account for more than 25% of the population in Europe and Northern America, 20% in Oceania, 17% in Asia, Latin America & the Caribbean, and 6% in Africa
85 years and older, is the fastest growing population group in United States. According to Cancer Facts & Figures 2019, estimated number of older adults age 85 years and above was 6.4 million in 2016 and it is expected to reach 19.0 million by 2060. In 2019, 1,944,280 adults ages 85 and older were alive with a history of cancer
Inclination towards minimally invasive procedures leading to require extensive utilization of medical instruments and their sterilization. This is likely augmenting the growth of sterilization equipment and disinfectant market.
Get a glimpse of the in-depth analysis through our Report Brochure
Rise in Number of Hospital Acquired Infections Propel Global Sterilization Equipment and Disinfectant Market Growth
Hospital acquired infection (HAI) occurs during the hospital stay and it is a significant cause of mortality worldwide. Post-operative sepsis, catheter-associated urinary tract infection, pneumonia, and blood stream infections are the major types of HAIs in adults
Hospital acquired infection is most commonly caused due to urinary catheters. For instance, according to Center for Diseases Control and Prevention in 2017, catheter associated UTI is the third-most common type of healthcare associated infection
Thus, increasing incidence of various HAIs is projected to propel the utilization of sterilization equipment, globally. This in turn to drive the growth of sterilization equipment and disinfectant market
Inclination towards Disposable Medical Devices and Excise Duty Imposed on Medical Device Manufacturers to Hamper Global Sterilization Equipment and Disinfectant Market
Disposable medical devices such as prefilled syringes, gloves, face masks, needles, and catheters does not require the sterilization. Thus, rise in usage of disposable medical devices is likely hamper the growth of sterilization equipment and disinfectant market.
Increasing taxes and import duties on medical devices across the globe is likely to impact the sterilization equipment and disinfectants industry. For an instance, a medical device manufacturer is expected to pay additional Medical Device Excise Tax (MDET) of 2.3% on the sale of medical devices, under the Patient Protection and Affordable Care Act (PPACA) of the U.S. Consequently, manufacturers and importers of medical devices are supposed to pay a certain amount on the sale of specific medical devices. It has been estimated by the Joint Committee on Taxation of the U.S. that the excise tax would cost around US$ 29 billion over the period 2013 to 2022. Therefore, implementation of this act is expected to only increase expenses for sterilization equipment manufacturers, as they are likely to end up paying an additional 2.3% excise duty. Thus, imposition of additional tax incurred on manufacturers may hamper the growth of sterilization equipment and disinfectant market during the forecast period.
Expanding operations in future? To get the perfect launch ask for a custom report
More Trending Reports by Transparency Market Research – https://www.biospace.com/article/crispr-and-cas-genes-market-to-expand-at-fast-pace-thanks-to-rise-in-research-and-development-activities-tmr/